Dr Theja Hettiaratchi PhD ACVA ICAS IIPA PG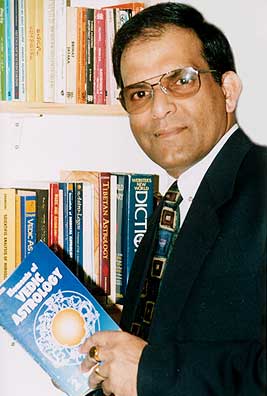 Dr Theja was born on 27 April 1951 to a traditional Buddhist family in the Western Province of Sri Lanka. Powerful planetary placements in his horoscope, such as Venus in her own 5th house, (house of intelligence positive for - children, investments, scholarships and higher knowledge), Mars in his own 4th house (means earth & land-related issues, brothers) with the exalted Sun (education, authority, leadership, dignity, happiness and research talent), a well placed Rahu in the 2nd house (education & travelling), Jupiter in his own 3rd house (house for siblings and speech) - a planet for self-realisation and spiritualism and other favourable planetary positions have destined him to be a scholar and a spiritual astrologer.
He was an outstanding scholar in Germany 1971 - 1984, and won five scholarships one after the other and completed his BSc in Geology, MSc in Applied Geology, PhD in Mineral Science, Fellowship Diplomas in Gemmology in Germany and UK and Diploma in Business Management. He was the first lecturer in Gemmology in 1981- 84 at the Department of Mineralogy, University of Berlin.
He has travelled widely throughout the world in his capacity as a Business Promotion Adviser in the field of the value-added precious mineral industry. The highest point in his career was the time he worked as a British Government (Commonwealth Secretariat) funded Adviser to the Government of Ghana to develop the value-added precious mineral industry. Among his contributions in the field of Science & Technology, and Economic Development is the discovery of the mineral "Srilankit" (Zr, Ti) O2 in 1984, setting up the Sri Lanka Gem & Jewellery Exchange in 1990 and the development of the value-added gold industry in Ghana, W. Africa in 1992-1996.
Dr Theja's family was very much attached to Vedic astrology and his parents have always consulted an astrologer, especially on matters related to education, commencement of new projects, (such as the construction of a building, sowing of seed) marriage and overseas travel. This led him to study astrology at a very early age in his life. He has spent a great deal of time in the company of astrologers and spiritual seekers in studying and finding astrological causes for the events in our lives.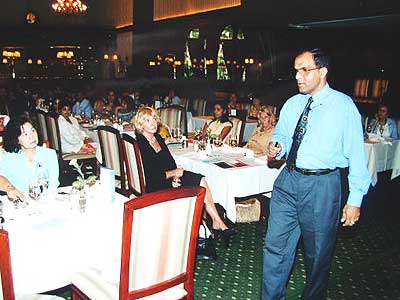 Despite a busy professional schedule, Dr Theja never fails to widen his knowledge in Vedic Astrology. It was clear to him that the strong planetary positions in his horoscope, that give the ability to do research into scientific and occult subjects have led him to become a spiritually oriented astrologer and a planetary gemmologist.
Apart from his astrological readings he gave 10 lectures and had 3 TV interviews during his last Asia tour (Dec. 2002 – Mar. 2003) in India, Sri Lanka, Malaysia and Singapore. At the 12th Asian Astrologers Conference in India, January 2003, he was given the prestigious "Rudra Bhatta" award for his excellent contribution to the field of Astrology. One of his great highlights was the ladies luncheon lecture delivered in Feb. 2003 at the
well known Tanglin Club in Singapore (picture above).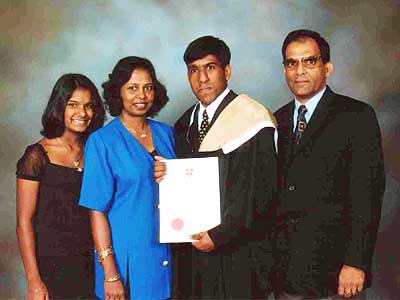 Today, he has a busy astrological consultancy in Perth where he with his wife, Priyanthi and two children lead a happy and peaceful life (picture left).
He is consulted by people from all over the world and from all walks of life. He is also a well-recognised consultant astrologer and a lecturer in astrology in Singapore, Malaysia and Sri Lanka.
He is an active member of the community who has gained experience in counselling. Presently he is a registered lecturer on Vedic Astrology at the Australian Institute of Holistic Medicine, Perth
He is the founder of the Australian Academy of Vedic Astrology which is going to be an educational centre devoted to the greater system of Vedic and Yogic knowledge of India. He has set up this academy with the intention of promoting various related aspects of Vedic Science including Vedic astrology, Vastu Shastra, Meditation and Mantra, with special reference to their background in the Vedas
Therefore, Dr. Theja's wholehearted intention is not only to share the knowledge and wisdom each person is entitled to but also to enhance their life experience and journey. To learn what they came here for. To embrace happiness and loving-kindness, compassion and love with all that we associate with Spiritual Vedic Wisdom for Inner Peace & Happiness